UCLA's Center for the Liberal Arts & Free Institutions (CLAFI) Meeting
Hello everyone,
Bruin Political Union (BPU) and the Center of Liberal Arts and Free Institutions (CLAFI) are co-hosting UCLA's Political Science Graduate Student, Brian Hamel, for a discussion analyzing the results of the presidential election. It will take place on Thursday, 7:30 p.m. This election has great implications for the future of America. This event serves as a place for an academic analysis of the results of the election. Please attend to understand Tuesday's results!
If you would like to attend, please fill out this google form. You will then receive a zoom link.
Thank you!
Ishani Desai President of CLAFI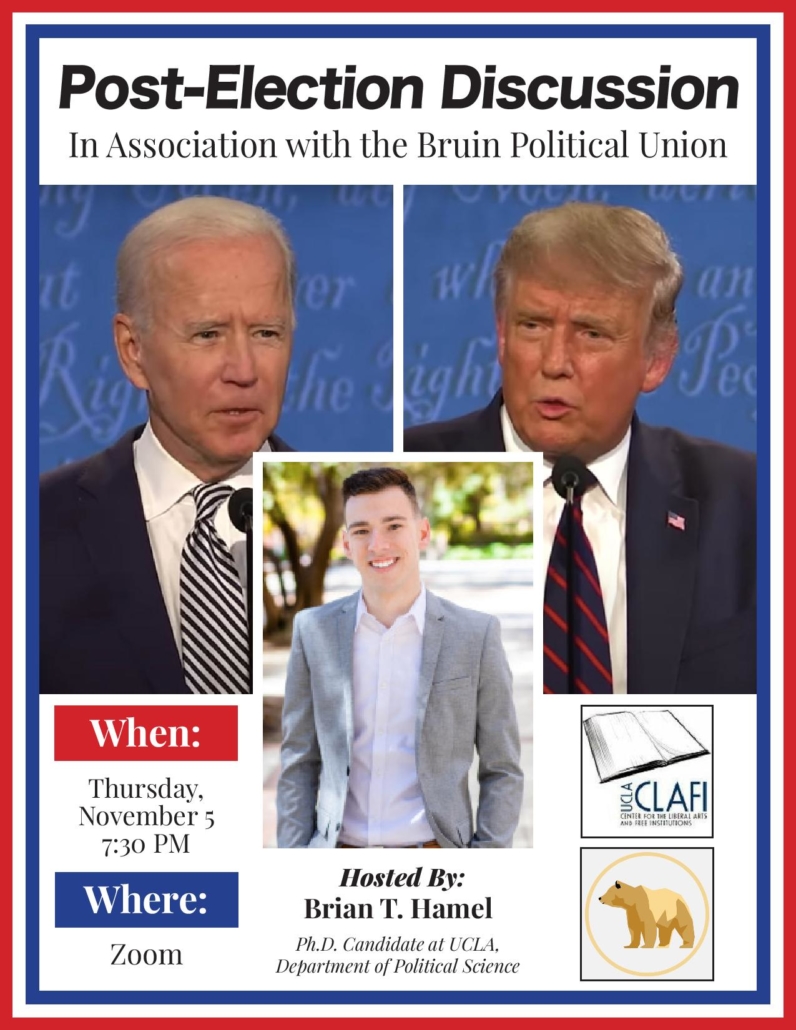 https://ww3.math.ucla.edu/wp-content/uploads/2020/04/Uxd_Wht_Mathematics_A-300x78.png
0
0
santillanc@math.ucla.edu
https://ww3.math.ucla.edu/wp-content/uploads/2020/04/Uxd_Wht_Mathematics_A-300x78.png
santillanc@math.ucla.edu
2020-11-03 23:51:38
2020-11-04 00:43:14
UCLA's Center for the Liberal Arts & Free Institutions (CLAFI) Meeting