Apply Now: UCLA Sustainable LA Grand Challenge Undergraduate Research Scholars Program 2023–24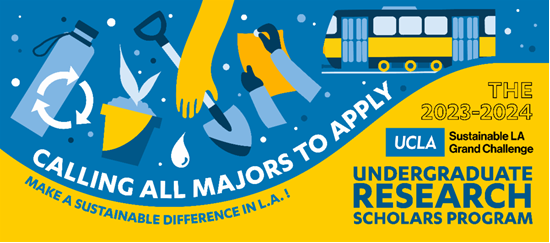 Calling All Undergraduate Students:
APPLY NOW to the
Sustainable LA Grand Challenge
Undergraduate Research Scholars Program
Academic Year 2023-24
Deadline: June 17, 2023
The UCLA Sustainable LA Grand Challenge (SLAGC) is pleased to announce that we are now accepting applications to our Undergraduate Research Scholars Program (URSP) for the 2023–24 academic year! We are seeking undergraduate students who are eager to make a lasting difference in Los Angeles and beyond through their commitment to sustainability.
Founded in 2014, URSP is an intensive and highly competitive interdisciplinary program. It unites undergraduates in their first research experiences in the field of sustainability from a multitude of perspectives including arts, humanities, public policy, science, engineering and more. The program is designed to provide early intervention — exposing students to urban sustainability challenges and interdisciplinary research approaches necessary to overcome these complex problems.
---
URSP's mission is to give students experience in solving real-world problems. The work done in this class has a significant influence on both the campus and the wider Los Angeles community.
---
Eligibility
URSP is open to students across all majors who, in the upcoming academic year, will be:
Second- or third-year students who are eligible to be Scholars in the URSP
Fourth-year or later students who are eligible to be Project Consultants in the URSP
---
Components
For Scholars, the program has three components:
Placement in a SLAGC faculty member research setting where each student will conduct research under the mentorship of a faculty member and/or senior researchers.
A concurrent course meeting once a week that provides students with a background in urban sustainability, research and communication skills, and professional development.
An interdisciplinary research experience among peers aimed at addressing real urban sustainability challenges in the Los Angeles region (this experience will take place under the guidance of the course instructor, and will be separate from the faculty-mentored research experience).
Project Consultants will receive special leadership training to become peer mentors and group project leaders.
---

Application Deadline: Saturday, June 17, 2023
Join an amazing community of students with a similar passion for sustainability! URSP has an ever-broadening alumni network that spans the gamut of disciplines and unites program graduates for years to come as they strive to take their place as the leaders of tomorrow.
Alumni have appreciated the interdisciplinary connections formed through the program, specifically with professors, professionals and their peer URSP scholars. Many are grateful that the connections gained during their participation have been sustained even after the program. Black Bruins, People of Color, Indigenous People, women, LGBTQ+ individuals, people with disabilities, members of ethnic minorities, foreign-born residents and veterans are strongly encouraged to apply.
About Us: The Sustainable LA Grand Challenge empowers UCLA faculty, students and staff to work across disciplines in partnership with real world stakeholders to discover, co-develop and implement innovative solutions to transform Los Angeles to the most sustainable megacity by 2050. Our vision is for Los Angeles to be the most livable, equitable, resilient, clean and healthy megacity, and an example for the world.
https://ww3.math.ucla.edu/wp-content/uploads/2020/04/Uxd_Wht_Mathematics_A-300x78.png
0
0
Trisha Tran
https://ww3.math.ucla.edu/wp-content/uploads/2020/04/Uxd_Wht_Mathematics_A-300x78.png
Trisha Tran
2023-05-16 16:19:10
2023-05-16 16:19:10
Apply Now: UCLA Sustainable LA Grand Challenge Undergraduate Research Scholars Program 2023–24