Astin Community Scholars Program
The Astin Community Engagement Scholars Program funds a select group of upper-division students who demonstrate a strong, ongoing commitment to community engagement and social change. The program is named for visionary UCLA higher education scholars Helen ("Lena") and Alexander ("Sandy") Astin to honor their nationally recognized body of research in the area of civic engagement. Those chosen to participate will receive a research scholarship of up to $10,000 during the 2023-24 academic year (based on need, as determined by the Financial Aid Office).
In partnership with the UCLA Labor Center, Labor Studies, and the Institute for Research on Labor & Employment, students chosen as Astin Scholars will collaborate with community activists on a campaign to establish a public option for long term care in the state of California. As the COVID-19 pandemic reinforced, access to care is a vital public policy concern related to public health, the economy, and civil rights. Areas of examination may include expanded access to child care, paid family and medical leave, home care services for older adults, and the labor rights of care workers. Those with an interest in economic and gender justice, disability rights, and uncompensated labor, along with public health and public policy development are especially encouraged to apply. Students will learn skills of community engaged research, community organizing, advocacy, and policy formation, working alongside those fighting for public investment into long term care, including some who are current care givers.
Fall quarter will be spent learning about the principles and the practice of conducting community-engaged research. In winter quarter, undergraduates will learn about current efforts to secure a state-funded long term care policy, and will team with their research partners to design projects and begin collecting data. Spring quarter will be dedicated to analyzing data collected and sharing the teams' findings. Each quarter, undergraduates will enroll in a 4-unit upper division course.
Applicants must have a cumulative GPA of 3.0 in their major and have junior or senior standing in the fall of 2023.
Applications are due by 5:00 p.m. on May 21st, 2023. Students selected for an interview will be contacted via email.
For the online application, go to https://forms.gle/5PhPKa6THck7HCvs5.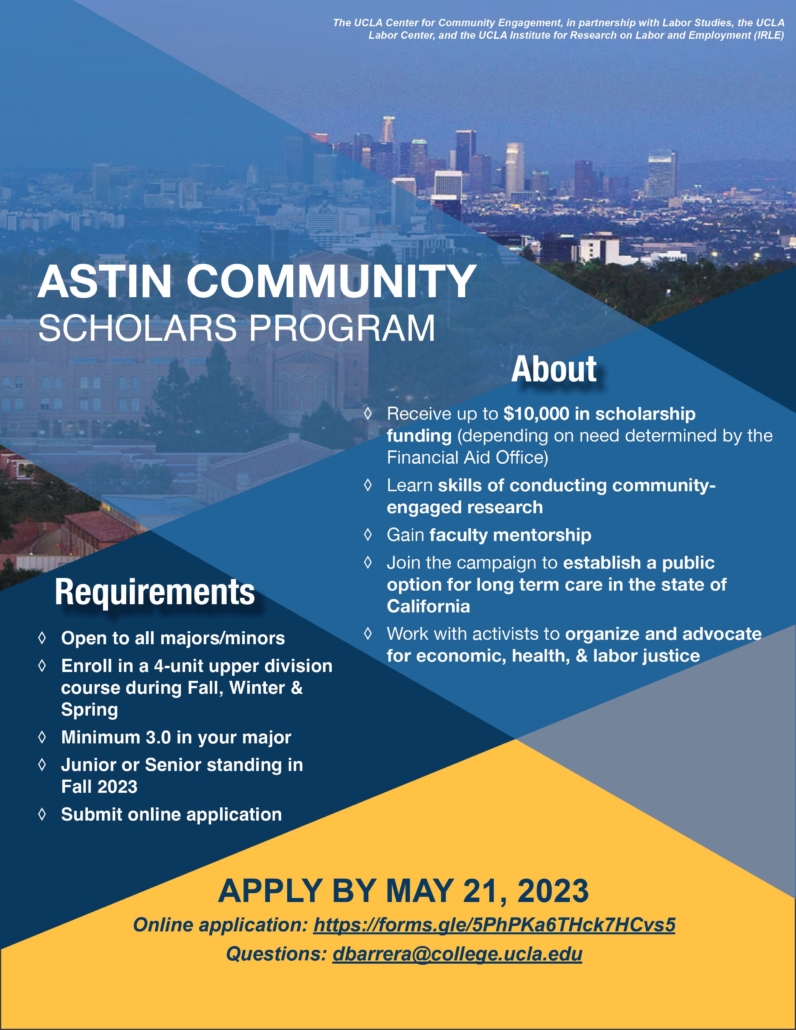 https://ww3.math.ucla.edu/wp-content/uploads/2020/04/Uxd_Wht_Mathematics_A-300x78.png
0
0
Trisha Tran
https://ww3.math.ucla.edu/wp-content/uploads/2020/04/Uxd_Wht_Mathematics_A-300x78.png
Trisha Tran
2023-05-16 13:40:08
2023-05-16 14:30:53
Astin Community Scholars Program