Architecture and Urban Design Summer Program with UC credit
JumpStart Summer 2023: July 5 – July 28
JumpStart is a 3.5-week summer studio for individuals contemplating careers in architecture, design, and related fields. The program is open to students from all backgrounds and carries six quarters of University of California credit. To participate in JumpStart, students must hold a high school diploma (or equivalent).
This year's program will be delivered in person. Students will be assigned to an instructor for a studio on campus, and will attend Technical Seminars, Theory Seminars, as well as group-work sessions in person.
TESTIMONIALS:
"JumpStart was a challenging and immersive introduction to the study of architecture and the UCLA AUD program. Over four weeks, I built new skills faster than I've ever experienced. The things I love about the program most are the camaraderie amongst the students and instructors, the amount of resources we were given, and the range of skills we learned in such a short time. I'm so grateful for how welcoming and knowledgeable the instructors are!" (Audrey Willey, 2022)
"As a complete beginner in the field of architecture, I absolutely loved my experience with JumpStart. The amount of passion for architecture was contagious, and I think my attitude towards the subject has been incredibly enhanced by the enthusiasm of the program's amazing staff." (Ben Apsley, 2021)
"This program was incredibly inviting and welcoming of all types of students. I had tons of fun and learned so much in the short amount of time we spent with our instructors and TAs. Most importantly, I made great connections!" (Jasmin Logrono, 2021)
Software and fabrication-tool tutorials will be provided each week as relevant to assignments within the Technical Seminars.
Over the course of the program, students will learn to:
Produce architectural representation via both orthographic and parallel projections
Build analog models using manual and digital fabrication tools
Develop digital models of existing and original designs
Learn to use 2-D and 3-D modeling and drawing software: Rhinoceros and Adobe Illustrator (individuals with prior modeling experience will be challenged to expand and advance their skill set through technical workshops)
Communicate architectural ideas effectively across formats
Nourish those ideas with broader cultural thematics
The JumpStart schedule allows for concurrent enrollment in ARCH&UD 10B: History of Architecture and Urban Design-Baroque to Contemporary Moments (5 units).
Studio, workshops, and seminars are offered between 10:00 am and 6:00 pm PST on Mondays and between 2:00 pm and 6:00 pm PST on Tuesdays through Fridays. Lunchtime usually takes place at 1:00 -2:00 pm in Perloff Hall Decafe. There will be a Field Trip in Los Angeles on Saturday, July 8.
Lunchtime lectures, workshops, and seminars are offered between 10:00 am and 6:00 pm PST. Lunchtime lectures will be recorded and offered asynchronously for those in different time zones.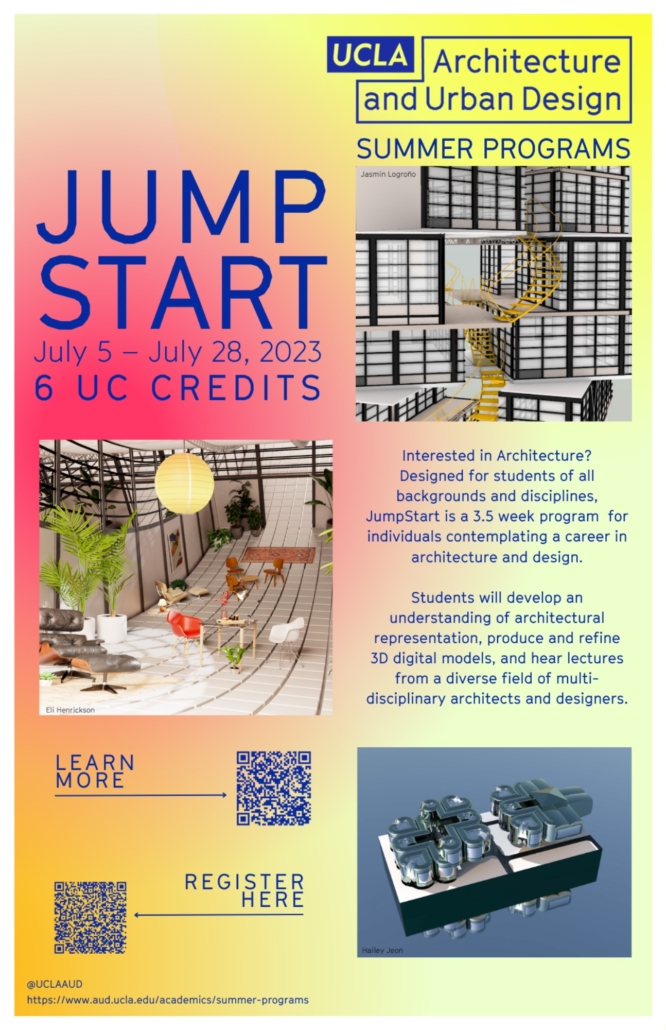 https://ww3.math.ucla.edu/wp-content/uploads/2020/04/Uxd_Wht_Mathematics_A-300x78.png
0
0
Carla Ramos
https://ww3.math.ucla.edu/wp-content/uploads/2020/04/Uxd_Wht_Mathematics_A-300x78.png
Carla Ramos
2023-04-17 15:19:01
2023-04-17 15:19:02
Architecture and Urban Design Summer Program with UC credit