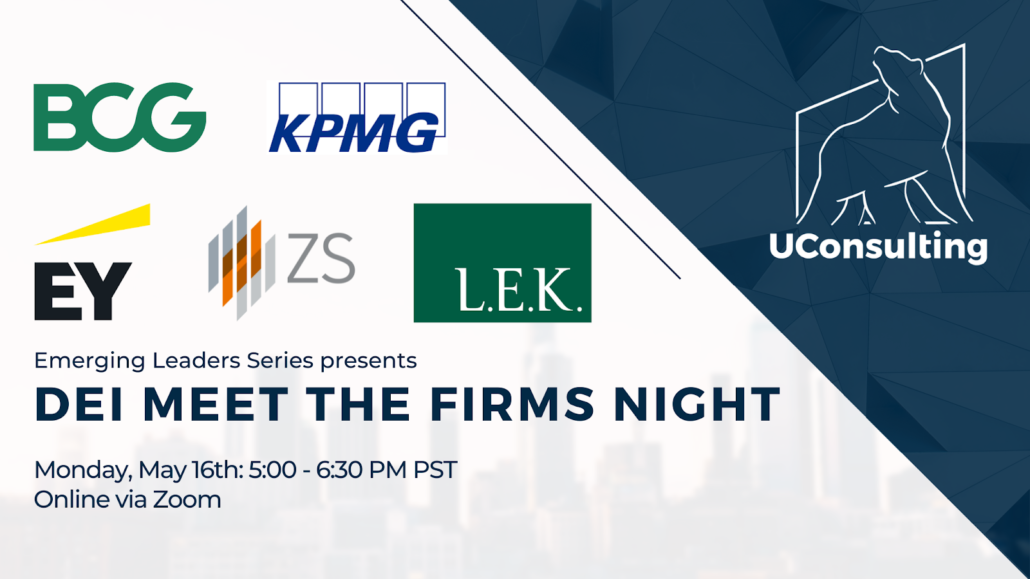 Interested in learning about Diversity, Equity, and Inclusion programs at top consulting firms? Come out to DEI Meet the Firms Night to hear from BCG, EY-Parthenon, ZS Associates, KPMG, and L.E.K. about their initiatives to support diverse candidates and how you can pursue them!
At this event, you will have a chance to connect with industry professionals at top firms and learn more about their experiences there. The firms will provide insight into the consulting industry, detail what makes their firm unique, and discuss opportunities tailored toward candidates from underrepresented backgrounds who want to pursue a career in consulting. We encourage you to register as soon as possible as you won't want to miss it!
RSVP with the link below by 11:59 PM PT Saturday, May 14!
RSVP link: https://bit.ly/DEIMeetTheFirmsRSVP

Best regards,
Ronald Wang
Assistant Director of Marketing
UConsulting at UCLA