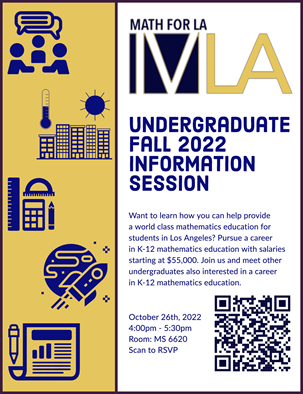 Are you interested in a fulfilling career as a K-12 math educator? UCLA's Math for LA program* offers an exciting opportunity for undergraduate math majors to earn a CA Teaching Credential and begin teaching full time by the time they graduate! The Curtis Center for Mathematics and Teaching is hosting a Math for LA: Fall 2022 Information Session on Wednesday October 26th @ MS6620 from 4:00pm-5:30pm. Join us to meet other undergraduate students pursuing this rewarding career field as well as the amazing faculty in the Mathematics Department and School of Education who will be supporting you on this journey. UCLA alumni who are current teachers will also be there to share some of their experiences in the classroom!
For more information and to RSVP, visit the Curtis Center website or scan the QR code in the flyer below.
*Math for LA is a program designed to train undergraduates to prepare for a career in mathematics teaching and teacher leadership. Math for LA's Integrated pathway and Joint Math Education Pathway were designed by the UCLA Math Department and the Graduate School of education to equip undergraduates interested in teaching mathematics with the necessary pedagogy and a professional understanding of K-12 mathematics content.