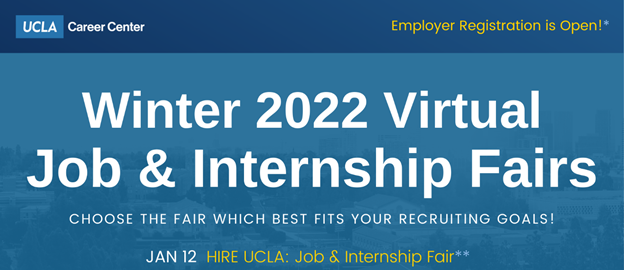 REGISTER TODAY!!!
Wednesday, January 12 is the Winter 2022 HIRE UCLA Virtual Jobs & Internships Fair. Over 70 companies are registered and ready to connect with you. We are especially excited to host our Employer Partners!
Northwestern Mutual – West LA
Bobrick Washroom Equipment, Inc.
Nearly 100 groups and over 1,500 1:1 sessions are being hosted. Be sure to sign up now in order to connect with employers. You are able to sign up during the fair but once the event begins, those available sessions will go very quickly.
DATE & TIME
WEDNESDAY, JANUARY 12TH
2-7 PM (PDT)
SIGN UP HERE:
https://ucla.joinhandshake.com/career_fairs/28558/student_preview?token=2kWGJZPQShugmdWYo25Any-kfRMgf8kdnmkdS69vOQdG6KnagLgVFQ
REMEMBER:
Employers may have applied qualifications to the 1:1 Sessions which may restrict availability however ALL students can participate ALL Group Sessions.
CONNECTING VIRTUALLY:
We ask that you do what you can to minimize distractions, however please know that employers are aware that you may not have a private space to connect with them. We have informed our recruiters that with students back on campus, they should expect and understand that some students may not have a fully private space. Employers have been and will continue to be very understanding throughout this shared experience.
GET READY:
Need to Work On Your Resume? Here's a link to VMock to help you get prepared:
Do Your Research:
It is important to research the employers before you meet with them!
Go here to see which are participating.
Here Are Some Helpful Resources: