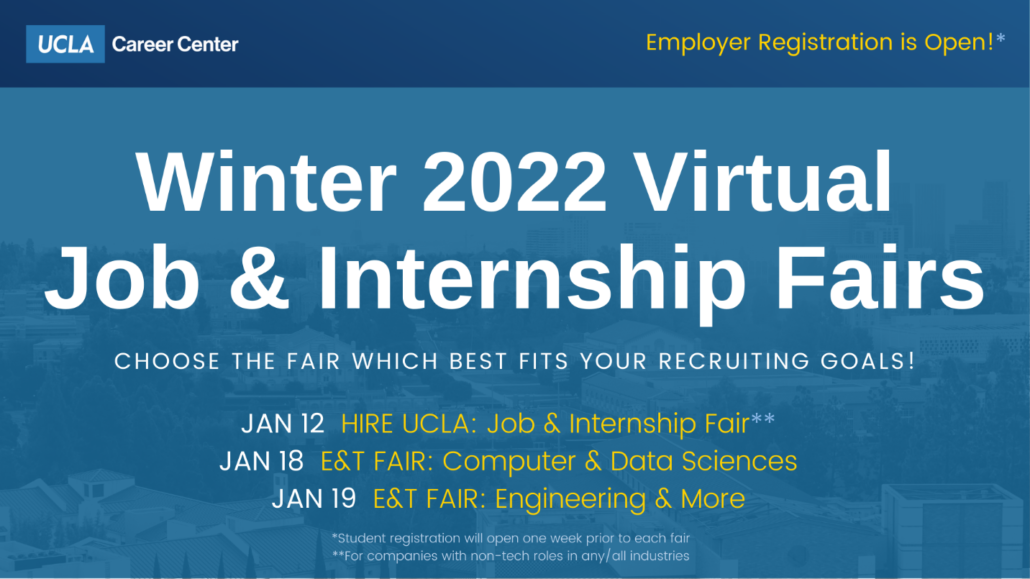 REGISTER TODAY!
The Winter Jobs and Internships Fairs are open for student registration. Over 100 different companies are registered and they are looking for the best and brightest that UCLA has to offer! No more standing in long lines waiting to talk with a recruiter. Connect with top employers from the comfort of your home, as all of our fairs are 100% virtual!
Check out upcoming fairs with a corresponding list of some of the top employers* who will be participating:
HIRE UCLA: Job & Internship Fair
Date: 1/12/2022
Time: 2pm – 7pm (PST)
Northwestern Mutual – West LA
Bobrick Washroom Equipment, Inc.
California State Auditor
Univision Communications, Inc.
Federal Deposit Insurance Corporation – FDIC
Metagenics, Inc.
Naval Criminal Investigative Service (NCIS)
Engineering & Tech Fair: Computer & Data Sciences
Date: 1/18/2022
Time: 2pm – 7pm (PST)
Arista Networks
Green Hills Software
ISBX
Raytheon Technologies
Roku, Inc
Sandia National Laboratories
Texas Instruments, Inc.
Visa, Inc.
US Army Cyber Command
Engineering & Tech Fair (Day 2): Engineering & More
Date: 1/19/2022
Time: 2pm – 7pm (PST)
AECOM
Intel Corporation
Los Angeles County Sanitation Districts
LADWP
U.S. Department of State
Naval Air Systems Command (NAVAIR)
Marvell Semiconductor
Nearly 100 groups and over 1,500 1:1 sessions are being hosted for each event. Be sure to sign up now in order to connect with employers. You are able to sign up during the fair but once the event begins, those available sessions will go very quickly.
SIGN UP HERE:
https://ucla.joinhandshake.com/career_fairs/28558/student_preview?token=2kWGJZPQShugmdWYo25Any-kfRMgf8kdnmkdS69vOQdG6KnagLgVFQ
REMEMBER:
Employers may have applied qualifications to the 1:1 Sessions which may restrict availability however ALL students can participate ALL Group Sessions.
CONNECTING VIRTUALLY:
We ask that you do what you can to minimize distractions, however, please know that employers are aware that you may not have a private space to connect with them. We have informed our recruiters that with students back on campus, they should expect and understand that some students may not have a fully private space. Employers have been and will continue to be very understanding throughout this shared experience.
GET READY:
Need to Work On Your Resume? Here's a link to VMock to help you get prepared:
Do Your Research:
It is important to research the employers before you meet with them!
Go here to see which are participating.
Here Are Some Helpful Resources: